Smart traders use these indicators to identify when the altcoin season is about to begin.
The fate of the crypto market is mainly dependent on Bitcoin (BTC) performance, which makes times like these crucial for traders who prefer altcoins. 
When the price of BTC takes a downtrend, most altcoins follow the same groove, but the bottoming region results in a sort of a different trend. As Bitcoin reaches the support and starts bottoming, altcoins usually perk up, marking the start of the altcoin season. 
With Bitcoin below USD30,000, it means that the altcoin season might not have arrived yet. However, analysts are drawing various outcomes that point to an altcoin season. Here are some indicators. 
ETH/BTC Price Action Might be an Early Indicator
One insight that shows the altcoin season might be a stone's throw away is the ETH/BTC  trend, which was discussed by a pseudonymous Twitter user PlanDeFi. He compared 2016 to 2017 ETH/BTC performances against that of 2021-2022. 
"Looks damn similar, right? Accumulation>Breakout>Ascending Channel>Breakout. The market is bigger now — it just takes longer," said PlanDeFi in a tweet. 
From this projection, altcoin season could start in early July and extend to the end of 2022.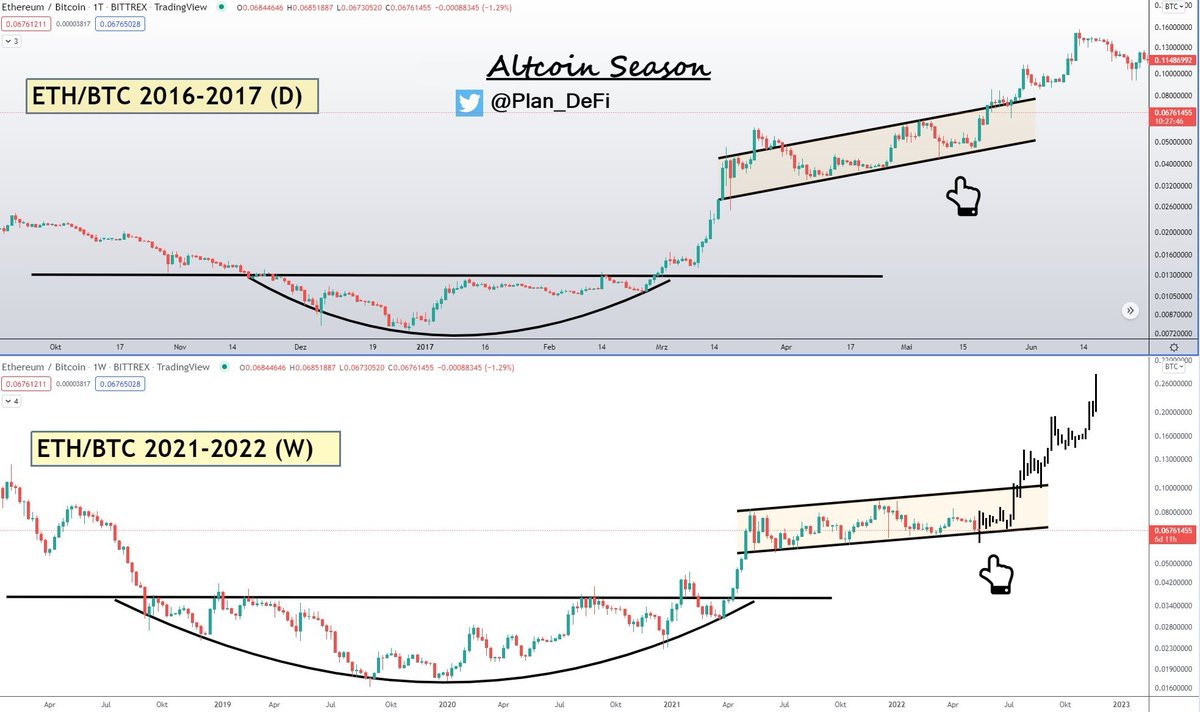 A 2017 Fractal Indicates that Altcoin Season is Nigh
More evidence that we are about to get into the altcoin season was provided by El_Crypto_Prof, who looked at the history of altcoin market capitalization. 
"When it comes to altcoins, I can see the following scenario playing out. There are just too many similarities with the previous cycle. RSI also looks incredible. The next wave up will leave many behind," Said El_Crypto_Prof. 
The Market is Strongly in the "Bitcoin Season" 
While most fractals appear pleasing to the eyes, they end up failing. Therefore, they are not good options for accurate analysis when trading cryptos. 
The altcoin indicator gives a more metric-based method of predicting when we are in a "Bitcoin season" and "altcoin season." According to the indicator, we are still in the Bitcoin season, and the altseason might not commence until August-September 2022.